Lee Blalock
Bio
Self-Portrait
2m Reel [video link + performance]
Selected Projects
2014
Process Blog for May 2014 MCA Performance [3D modeling + printing, physical computing, sound]
Incisions Series (in progress) [video series]
2013
Stereo Test Program No.2
[performance]
Stereo Test Program No.1
[video link + performance]
Neuebody drawing series
[drawings]
Vis 1 + 2
[sculpture + sound]
Under, V.5
[installation]
Patent: ctrlr.H.rt #113, ctrlr.H.rt #114, ctrlr.H.rt #115, ctrlr.H.rt #116
[installation + gif links]
Chalk for a Quartet
[installation + video link]
Neue
[mural]
Tongue
[installation]
2012
R-id [multimedia performance]
Remote [video installation]
Fru [video]
Digital Portraits [digital image manipulation]
Smeared 2 [performance for Leitmotif, Toronto]

2011
Chalk for One Performer in a Gallery [performance]
Render: Loop1 [performance for Leitmotif, Toronto]
Reconciliation: Render4 + Reconciliation for Music Box, v.1 [video + multimedia performance]
Under [sculpture + performance]
Defensive Splitting / Clone Reconciliation [abstract]
2010
The New Interpretation + Incalculable [video + performance]
187 Seconds Flat [multimedia performance]
Collate [video]
One Translation for Each Word and So On [sound]
One Translation for Each Phrase [writing for radio]
This is How the Worlds Were Built [writing for radio]
A Walking Tour of Matridottir [performance writing]
Excerpts from "A Survey of Body Computing: Rendering Wet Tech" [paper]
2009-2008
Eject Video Series [video]
Luminous Flux V.1 + V.2 for Le Flash [performance]
Output [video]
pretty.robot.brains Diagrams + Schematics [digital drawings]
Excerpt from "Pop Penetration: Appropriation, Avatars and Alternative Worlds" [paper]
<The Others> Self Portraits [digital photo manipulation]


Software
Audio Performance SW built in Max/MSP [programming]
Hardware
Midi Controllers and Performance Sensors [coming soon]
3D Renderings
Designs for the NeueBody [coming soon]
Ongoing
ChoreoLab [experimental dance workshops]
Radio Projects [experimental radio]
Live Sound Performances [sound]
Team Projects + Collabs
Project Cabrini Green with Jan Tichy [sound + processing team]
Prairie with Shawn Decker [electronics fabrication team]
Laboratory Dancers [composer, performer]
Classes
WIRED; SAIC, Contemporary Practices
CORE Studio; SAIC, Contemporary Practices
Research II: Posthumans, Postgender, Postproduction; SAIC, Contemporary Practices
3-D Jittery Interactivity; SAIC, Art and Technology Studies
Digital Photography; HPAC
ArtShop; HPAC
Man-Machine Workshop; SAIC

Links
Soundcloud


News>>>
In progress...I'm working on a piece called NeueEar. It's a robotic, sound responsive wearable piece that is a direct response to my hyperacusis. This was the first concept sketch.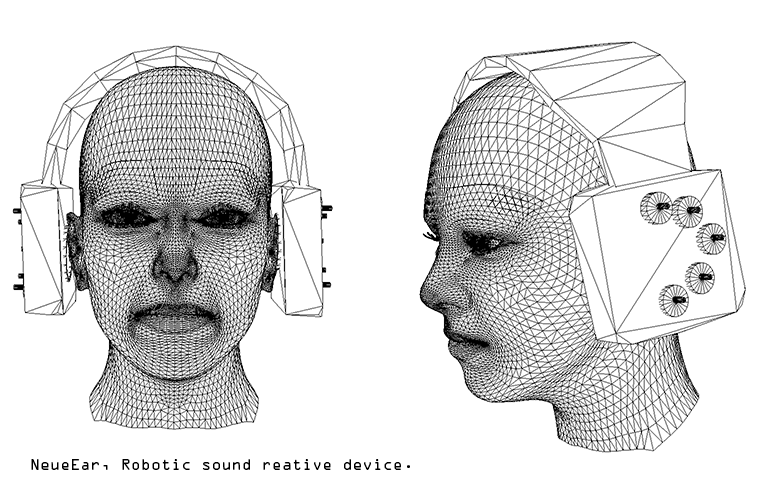 Taught a digital arts workshop called Man/Machine for newly accepted undergraduates during a Studio Preview event at SAIC.
Conduit blog updated...

New program for Brkn Concrete will be uploaded to the NUMBERS.FM archive starting in February.
Working on a collection of stories, lyrics and text based works called ANGRY ROBOT. Planning to make it an eBook.
Preparing for an upcoming performance at the MCA in May 2014. Link to progress blog is here.
Participated in The Big Draw Chicago at the Hyde Park Art Center on 10.13.13.
New collaborative project called Play[LAB] with artist Maria Gaspar. We worked with the MCA to create a workshop for their teaching artists on 9/20/13.
Second video camp of the summer (2013), NEUE WORLDS, happening over 10 weeks (begins 6/25) at the HPAC as part of my solo exhibition.
Taught a summer video camp for teens next week at HPAC in conjunction with my solo exhibition, "Neue".
Was a DJ for a 3 hour set at ARTBAR 6/7 from 6-9. On the menu: dnb, house, old school hip hop. I'll upload the mix soon after.
Reading Group meeting in Gallery 5 in response to the show, May 28th, 7-9pm. Assigned reading is What Are Humans for?: Art in the Age of Post-Human Development. Author(s): Ando Arike. Source: Leonardo, Vol. 34, No. 5, Ninth New York Digital Salon (2001), pp. 447-451
Uploaded photos from the most recent performance as part of my solo exhibition at Hyde Park Art Center. Click Notation for Neue Movement link to the left.
Hyde Park Art Center solo exhibition, "Neue". March 17-June 23rd 2013.