Lee Blalock
Statement + Bio
Self-Portrait
3m Reel [video + performance]
Call for performers
Selected Projects
2014
oddity()[performance]
Instructions for Other Orthographic Projections [performance + text]
Bio.Logicals [macro photography]
NeueEar[robotics]
Conduit for the MCA [3D modeling + printing, physical computing, sound, iBook link, link to process blog]
Incisions Series (in progress) [video series]
2013
Stereo Test Program No.2
[performance]
Stereo Test Program No.1
[video link + performance]
Neuebody drawing series
[drawings]
Vis 1 + 2
[sculpture + sound]
Under, V.5
[installation]
Patent: ctrlr.H.rt #113, ctrlr.H.rt #114, ctrlr.H.rt #115, ctrlr.H.rt #116
[installation + gif links]
Chalk for a Quartet
[installation + video link]
Neue
[mural]
Tongue
[installation]
2012
R-id [multimedia performance]
Remote [video installation]
Fru [video]
Digital Portraits [digital image manipulation]
Smeared 2 [performance for Leitmotif, Toronto]

2011
Chalk for One Performer in a Gallery [performance]
Render: Loop1 [performance for Leitmotif, Toronto]
Reconciliation: Render4 + Reconciliation for Music Box, v.1 [video + multimedia performance]
Under [sculpture + performance]
Defensive Splitting / Clone Reconciliation [abstract]
2010
The New Interpretation + Incalculable [video + performance]
187 Seconds Flat [multimedia performance]
Collate [video]
One Translation for Each Word and So On [sound]
One Translation for Each Phrase [writing for radio]
This is How the Worlds Were Built [writing for radio]
A Walking Tour of Matridottir [performance writing]
Excerpts from "A Survey of Body Computing: Rendering Wet Tech" [paper]
2009-2008
Eject Video Series [video]
Luminous Flux V.1 + V.2 for Le Flash [performance]
Output [video]
pretty.robot.brains Diagrams + Schematics [digital drawings]
Excerpt from "Pop Penetration: Appropriation, Avatars and Alternative Worlds" [paper]
<The Others> Self Portraits [digital photo manipulation]


Software
Audio/Visual Performance SW built in Max/MSP [programming]
Hardware
Midi Controllers and Performance Sensors [coming soon]
3D Renderings
Designs for the NeueBody [coming soon]
Ongoing
ChoreoLab [experimental dance workshops]
Radio Projects [experimental radio]
Live Sound Performances [sound]
Team Projects + Collabs
Project Cabrini Green with Jan Tichy [sound + processing team]
Prairie with Shawn Decker [electronics fabrication team]
Laboratory Dancers [composer, performer]
Teaching + Workshops
Core Faculty; SAIC, Low-Residency MFA program
MCA Partner School Initiative; MCA + Curie High School Art Based Residency
Programming Sound: MAX/MSP; SAIC, Sound/Art and Tech
Graduate Advising; UIC, College of Architecture, Design, and the Arts
Core Studio; SAIC, Contemporary Practices
Research II: Posthumans, Postgender, Postproduction; SAIC, Contemporary Practices
WWWIRED; SAIC, Contemporary Practices
3-D Jittery Interactivity; SAIC, Art and Tech
Intro to Digital Photography; HPAC
ArtShop; HPAC
Man-Machine Workshop (link); SAIC

Links
Soundcloud


Recent News>>>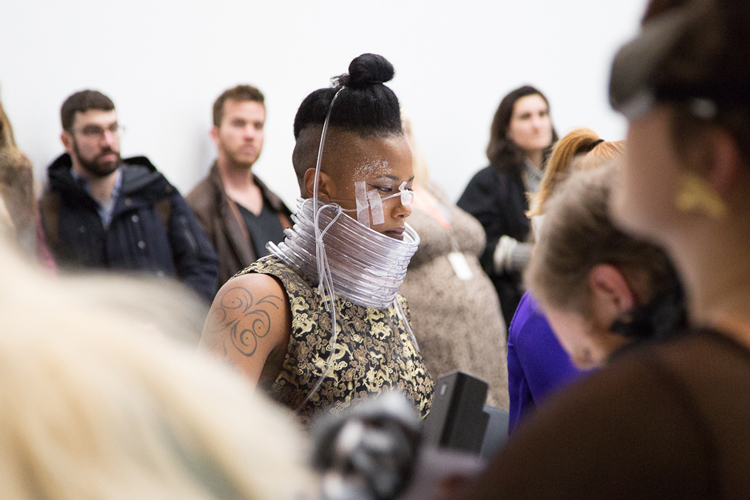 Mid October...
oddity() performance documentation is here.
The oddity() performance is coming up on Nov. 18th. There's a cast of 13 and we're all very excited to experiment live. More info can be found on the process page.
Family Day at the MCA was Nov. 8th. The theme was "Changes" and I got families involved by asking them to change their behavior and record it for playback in the museum. See the documentation for the piece here.
Rehearsals are starting this month for my next performance at the MCA. I've pulled a few friends into the mix and we're planning to have a great time getting our "otherworldly rockstar vibe" on. Process documentation (and performer info) is here. Photo: Making my wearables for the video I'll be shooting this week. It's inspired a bit by The Man Who Fell to Earth.
My relationship with the Museum of Contemporary Art is growing steadily! I'll be participating in Family Day on 11.8. The theme is "Changes" inspired by the Bowie exhibit, so I'm creating a performative activity based on behavioral changes. It'll be documented and played back in real-time with a little help from the Jitter patch I'm writing. Also, I'm the artist-in-residence at Curie Metropolitan High. Valerie Xanos, an art teacher who is as crazy about Bowie as I, is using the exhibit at the MCA to inspire a project about identity. See kids, it pays to be obsessed with something (and vocal about it).
Late August...
I'm moving my studio to a great big church across the street from my apartment. I happened to see a "Spaces Available" sign when I was walking one day and just stopped in to ask. It's an active church, but the entire 3rd floor is for small non-profits and studios. And they don't care what we do in there. I feel like I'm in a comic book origin story. Nightcrawler lived in a church, right? Ooooh, it's going to be neat hanging out there in the middle of the night! I'm moving mid-September. Very exciting! I've been in a shared space for a few years. This will be my very own.
Spring/Summer...
The Bowie exhibit is coming to the MCA this fall and I'll be performing in the atrium on Nov 18th as a response to the work in the show! More details later. Exciting! Process documentation coming...
I've been taking photos of blood. More to come.
I'm in the process of decoding the 2nd extension of the Conduit project. It'll be a (Java) web based project using the data gathered from the May MCA performance.
Running a camp for ages 10+ at HPAC called Big Art in mid July. We'll be making geometric/graphic work directly on the walls of Gallery 4!
Making new work for an upcoming Futurism conference being held in California next year.
This June I hung out with 3d print guru (and AIC artist in residence), Tom Burtonwood, in his fancy studio at AIC. Tom, his intern (Opal Jura Smittinet) and I built a Prusa i3 printer while listening to cool tunes and chatting about new media and teeth. I'll be building another one just for me and adding it to my studio tools this fall.
Was the guinea pig for these things a few years back. So I get another shot at doing some cool stuff with them in January at the Neiman Center at SAIC.
I've had the chance to work at the Museum of Science and Industry as an artistic facilitator for a program funded by the National Science Foundation called the Art of Science Learning. It's been a blast and an eye opening experience. Art + Science, Science + Art...they've always been inseparable to me....
Media companion for Conduit in the form of an iBook is finally on the iTunes store. Here's the link.

Performed Conduit at the MCA on Tuesday, 5.13.14 from 6ish-7pm. Documentation is here.